Fall is here and winter is probably close on its heels. To adults, summer seems long gone but a child's joy in exploring the summer world becomes part of them forever. After attending Manitoba Child Care Association workshops on outdoor classrooms, BHF Daycare staff set to work to develop some wonderful learning spaces on BHF's 7 acres of green space. With an inviting mud kitchen, sensory pathways, and stumps grouped into a meeting place, the children spent many special hours connecting with nature.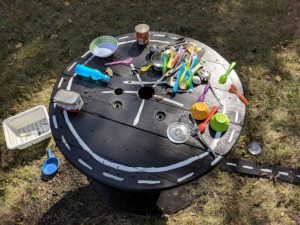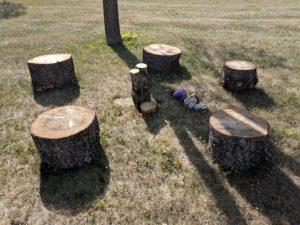 The beauty of the trees, the softness of the air,
The fragrance of the grass, speaks to me,
And my heart soars.
-Chief Dan George
Fall is an important time for Indigenous cultural programming. BHF's "traditional crew" makes sure we have sweet grass, sage and other traditional medicines as well as rocks and wood to last throughout the winter. October is the month of the Ghost Dance. As night fell on October 20, seventy people gathered at our North Winds Lodge for a feast and Ghost Dance under the leadership of Director of Indigenous Services, Mike Calder. Participants danced to honour the sacred teachings and those who have passed away. The October Full Moon, a Hunter Moon, was celebrated on October 24, led by BHF staff member Candyce Boivin. Thursday evenings, women at BHF get together with Facility Manager Angela Antoine to learn and practice traditional songs. When asked why a women's drum group is important, Angela replied, "We are empowering women who have not had a voice. Our drum group helps women come out of their shells and help heal from the past. We talk about our experiences with traditional ways and how they were lost through addictions. If moms want to bring kids, we involve them too; it helps bring families closer. We start off with a smudge and we end with what we've learned. And most importantly there's laughter and good memories".
There are many ways to learn in a therapeutic community – we describe ourselves as all teaching and all learning from one another. Different kinds of learning are happening throughout the facility and throughout the day. One important option for adults at BHF, is returning to formal schooling at the on-site St. Norbert Adult Education Centre (SNAEC). Incomplete, interrupted, and unhappy schooling has been a fairly common experience among those who come into treatment at BHF. SNAEC, operated in partnership with Manitoba Institute of Trades and Technology, is dedicated to supporting leaners at varying levels and from all backgrounds. SNAEC offers provincial credit courses for those who wish to improve skills for employability, complete a Mature Student High School Diploma, or upgrade credits toward further education and training. The SNAEC student body is a mix of BHF program participants and adults from the surrounding community. As part of their Individual Treatment Plans, 13 BHF members are attending the fall semester at SNAEC.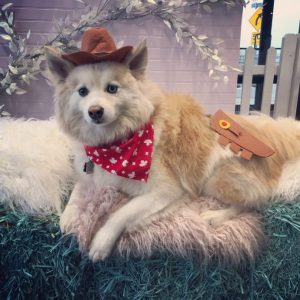 Over the last several months, BHF members have enjoyed the opportunity to connect with a therapy dog. Wyatt is certified by St. John Ambulance to work with people and visits BHF twice a week with his owner, Nicole. Therapy dogs provide an opportunity for people to experience unconditional positive regard from another being. For members who may be missing their own pets, Wyatt's visits are also a welcome time to simply enjoy spending quality time with a friendly animal.
October has become synonymous with the start of the flu season and BHF actively supports the approach of "Get the shot, not the flu". Staff and residents alike are encouraged to take advantage of Manitoba's free annual flu vaccinations. On October 23, Public Health Nurses from Fort Garry Access Centre provided immunizations to 28 people at our on-site flu shot clinic. Eligible members also received pneumonia vaccine. Many thanks to Registered Psychiatric Nurse, Iulia Macavei for organizing this event and to the Public Health Nurses for their caring, competent and cheerful efforts.
THANK YOU!
As always, our sincere thanks for all the support we receive. Thank you to Canada Summer Jobs for their contribution toward the salary of a summer student in our daycare, and to Manitoba Community Places for a grant toward the new roof on the Breezy Point residence. Thank you to the many businesses, individuals and families who support us through cash donations or gifts-in-kind, and to our friends and neighbours who speak up in support of our on-going mission of helping people move away from the pain of addictions to healthier, happier futures.