BHF NEWS – Spring 2018
Those who know us, know BHF is always a busy place. Here's a look at some of our recent activities:
Addressing the meth epidemic – In the past decade, BHF has seen a steady rise in the number of people seeking help for methamphetamine abuse, as well the number who report using it by injection. In the face of increasing needs and limited funding, BHF and other agencies are working hard to help. We are keeping ourselves informed of best practice recommendations. We are listening to the lived experience of staff and residents. We are adapting some of our practices to meet emerging needs. And we are empowering those who want to leave this crushing addiction behind to engage with the therapeutic community and to start on the slow but sure path to a safer, healthier, happier lifestyle.
Supporting families – Addiction doesn't just affect an individual; it impacts the entire family. BHF believes it's important that families have the option of being together in treatment. Pregnant women also need treatment options that fit with the realities of pregnancy and parenting a newborn. As of this writing, the BHF community includes twelve families. Some are single parents, some are couples; some came into treatment together and others reunited as part of treatment planning. Some families live in the main residences while others have accepted the option of living in nearby transition houses while continuing to engage in treatment programming. There are twenty-two children currently living at BHF, ranging in age from two weeks to 14 years, with one more baby expected soon.
Learning and earning – As of this writing, ten program members are working toward mature student high school diplomas at the on-site St. Norbert Adult Education Centre. We are proud to say that SNAEC teacher and filmmaker Kevin Nikkel's documentary, On Winter Roads, had its premiere on CBC in April. Well done, Kevin! Currently, seven of our senior members have returned to the work force, an important step in preparing to exit. Both the students and those employed off-site, remain active in the therapeutic community, keeping up the routines and relationships that helped them move toward their goals, and extending help and encouragement to newer members.
Celebrating achievements– In the first four months of 2018, we have celebrated four women who completed a full year in treatment. Three of these women are also parenting children in residence – a total of eleven children between them. They should be proud of themselves and we are very proud of them.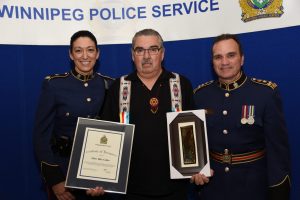 We are also very proud of our Executive Director and our Director of Indigenous Services who were recently honoured for their work at BHF. Mike Calder, Director of Indigenous Services was recently acknowledged by the Winnipeg Police Service for his long time volunteer work. Mike graciously gives his time to so many people, sharing his gifts and teachings without fanfare. He embodies the spirit of truth and reconciliation in our community. We are very grateful for all he does. In February 2018, Jean Doucha, Executive Director par excellence, was inducted in the Manitoba Order of the Buffalo Hunt, the province's greatest public honour. Jean barely paused long enough to be photographed with her award before returning to her endless efforts to sustain and improve this organization, but we couldn't be more proud of her.
Commitment to quality care – BHF programs are internationally accredited through CARF (Commission on Accreditation of Rehabilitation Facilities). As our accreditation is due for renewal, two CARF surveyors recently spent three days on site, conducting a rigorous review of our buildings, programs and policies. Both surveyors have extensive experience in the field and were well qualified to make recommendations and acknowledge strengths. We look forward to CARF's formal report in early summer and will announce their accreditation decision to the public at that time.
As always, our sincere thanks to all our neighbours, donors and funders. Your support means so much to us. Thank you to Project Echo for adult clothes and work wear, to First Book Canada for enriching our daycare and classroom libraries, to Seed Winnipeg for Access to ID funding, and to Assiniboine Credit Union for the Financial Access Program.