By tradition, BHF members gather together on December 24, enjoying homespun entertainment and treats and goodies of every kind, while a busy Santa calls out name after name, distributing gifts to a hundred people or more. Then the next day, residents host their families or close friends for visits and a Christmas feast. This year, at BHF as elsewhere across the world, holiday celebrations were smaller, quieter, scaled down. This year there were no large groups, no visitors, and no holiday passes, but to the children's amazement, two cheerful elves did help Santa make a safe and distanced Christmas Eve visit. Everyone seemed pleased with their gift bags and we all accepted that helping to keep ourselves, our families and the wider community safe, was the best and necessary way to mark the holidays in a pandemic year.
Covid-19 precautions are also affecting seminars and group work at BHF. To ensure distancing and minimize risk, seminars are being limited to five participants, with facilitators repeating sessions for different cohorts. Despite scheduling challenges and initial concerns that such small groups might dampen participation, things are going well for the most part. Members are currently engaged in Understanding Emotions, Right Living, Healthy Parenting, and Employment Development seminars.
BHF was fortunate this winter to have Dr. Heather Watson on-site for a three week fellowship placement. We appreciated her expertise in women's health, her attentive responses to questions from staff and residents, and her expression of support for our wholistic approach to treatment.
Healthy daily routines, including the responsibility and satisfaction of meaningful work, are the keystone of wholistic treatment. We are proud of our staff and residents who keep BHF a safe, sanitary and pleasant place to be. This winter, there have been days when a good number of our population had to self-isolate and the burden of cleaning, cooking, laundry chores etc. fell on the shoulders of a valiant few. They deserve our heartfelt thanks for a job well done.
One very important group at BHF is the kitchen crew. In the course of a year they plan, prepare and serve thousands of meals. Crew members also learn about nutrition, food safety, and the operation and care of kitchen equipment. In the past six months, with Chef Brad Grey as instructor, 24 members of the kitchen crew have earned their Level One Food Handler Certificate. Way to go!
Learning to manage leisure time is also important in overcoming addiction. Staff and senior members take the lead in organizing evening or weekend activities, encouraging others to join in. Jigsaw puzzles, card games, beading, Wii activities, movie nights, walking, and working out in the fitness centre are all popular activities these days.
When Manitobans aren't talking about the pandemic, we're generally talking about the weather. So far it has been an exceptionally mild winter, but fortunately it was cold enough that Director of Maintenance, Dean Storie, and a group of volunteer members were able to flood our skating rink. With an NHL sized ice surface, new outdoor lights, a supply of hockey sticks and pucks, and a visit from a mobile skate sharpening service, we have the ideal spot for invigorating winter fun without danger of crowds. One group making good use of the rink are the staff and children in our Kindergarten – Grade 6 School. Thank you to teacher Mark Miles for getting the kids outside and active.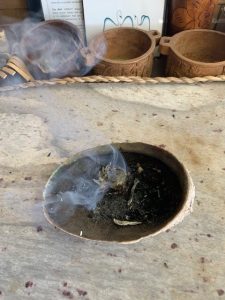 The great strength of a therapeutic community is that it is a community. With an open-ended length of stay, some people are at BHF briefly while others stay longer and return more than once. Either way, every member has an impact and every member is valued. Many members remain connected to the TC long after exit. Some stay connected through BHF's outreach services; some reach out to Elder and Director of BHF Indigenous Services, Mike Calder. In the past few months, we have learned of the deaths from various causes, of several former members. Our heartfelt sympathies go out to their families.
 THANK YOU …
Thank you Bell Let's Talk Mental Health and Manitoba Health, Seniors and Active Living for supporting our Indigenous Services. We cannot say too often how important this is to us.
Thank you to the Canadian Red Cross for donating PPE and on-line Infection Prevention Training for our staff.
Thank you to Pic n' Pay Shoes in Steinbach MB for a very welcome donation of footwear for our residents.
Thank you to former staff member Denise Harris for a wonderful donation of Naturally Sinful Body and Bath skin care and beauty products. They made a luxurious addition to Christmas gift bags.
Thank you to the Paroisse St. Norbert/ St. Norbert Parish for a gift of tobacco for our Indigenous cultural programs.
Thank you to the many BHF staff members who donated treats and toys to fill the stockings of all twenty children in residence this winter.
THANK YOU ALWAYS TO ALL OUR DONORS, FRIENDS,
 FAMILIES AND NEIGHBOURS.
YOUR SUPPORT MEANS SO MUCH TO US.
For donations or queries, Please contact us at 204-269-3430 or email at info@bhf.ca 
Box 250, 35 ave de la Digue
Winnipeg, MB R3V 1L6