Summer is here, and this year more than ever we are thankful for our beautiful seven acres along the Red River. More than just a piece of real estate, our property offers positive leisure activities, places for quiet reflection, grounds and sweat lodges dedicated to Indigenous teachings and ceremony, and the opportunity to simply connect with the restorative beauty of the natural world.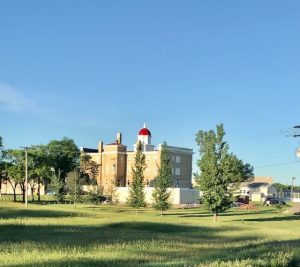 Sweat grounds and main residence as seen from the bank of the Red River.
With the easing of some pandemic restrictions, we have been able to resume family visits, but only outdoors. To reduce risks to the resident population, offsite passes are still quite limited so on-site recreation opportunities are more important than ever. Thanks to a grant from the United Way Emergency Community Support fund, we are purchasing a variety of sports and leisure equipment, ranging from a sturdy climbing structure for the children to ball hockey, badminton and basketball gear. This will add so much to the enjoyment of summer.
Over the past few months, there have been many expressions of thanks for essential workers across Canada. Our last newsletter expressed BHF's thanks to our own dedicated staff – that sense of appreciation has only deepened as time goes by. We would also like to acknowledge the fourteen program members who were employed off-site at the beginning of the pandemic and chose to continue working in various essential services. To reduce the risk to those in the main residential facilities, everyone employed offsite was moved to BHF's transition housing.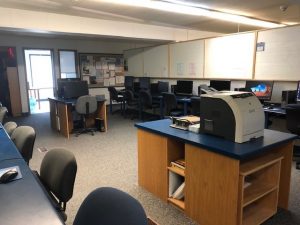 Education is an important option in wholistic treatment.
The 2019–2020 school year will be remembered everywhere as extraordinary. When in-class learning was suspended in March, teacher Amy Henderson worked hard to stay connected to the nine children enrolled in BHF's Kindergarten – Grade Six school, supporting parents in home schooling efforts and preparing individualized lessons and projects for the children. When the pandemic reached Manitoba, 30 adult members were also enrolled in school at BHF. St. Norbert Adult Education Centre teachers did their best to provide encouragement and guidance remotely and BHF took steps to ensure members had access to on-line learning. Nevertheless, many adults dropped out, missing the real-time connection with teachers and fellow students and perhaps overwhelmed by all the other challenges of the pandemic. We are proud of the parents who took on the challenge of home schooling their children with good will and commendable energy. We are also very proud of the handful of adult students who persevered. We hope that others may return to school in September to continue working toward their education goals.
For the first time in many years, BHF will not host a Sundance this July. Director of Indigenous Services Mike Calder made the decision out of concern for the health of all the members of the North Wind Lodge as well as their families and home communities. By the end of June however, Mike was welcoming small groups of BHF residents and staff back into the sweat lodge, implementing careful measures for physical distancing, hand washing, and limited periods of interaction. At this point in time, family members, program graduates, and non-members are not able to attend, though Mike continues to provide counselling, teachings and support in other ways.
Mike and the "traditional crew" have stayed busy in other ways as well. They fulfilled BHF's commitment to the Adopt a Highway program, removing garbage and debris from a stretch of Highway 75 south of St. Norbert. They also responded to a request to smudge the grounds of the St. Norbert Farmer's Market in June. Women's full moon ceremonies, led by Angela Antoine, were held at BHF in June and July; once again with small groups and observing distancing.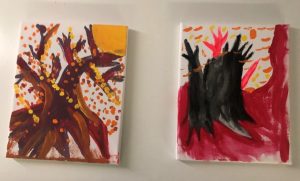 Art therapy at Breezy Point – creative expression in a supportive environment.
Thanks to a grant from the Jewish Foundation of Manitoba Women's Endowment Fund, a new art therapy project is underway at Breezy Point. Each week, about half a dozen women meet to learn visual art techniques and explore creative expression. An Art/Life Coach facilitates the sessions on zoom, with a staff member assisting in the classroom. One recent exercise was to draw trees, with roots that nourish and provide stability, and leaves that open to show the best aspects of ourselves.
Thank you!
Thank you to United Way Winnipeg for an Emergency Community Support Grant for the purchase of outdoor leisure equipment, providing covid-careful ways to enjoy the summer.
Thank you to the Winnipeg Foundation for a Sustainability Grant to assist with increased costs and reduced revenues due to covid-19.
Thank you to Bell Let's Talk Mental Health Fund for continued support for our Indigenous cultural programming.
Thank you to the Manitoba Building Sustainable Communities fund for a grant to paint the dome and trim of our historically significant building.
Thank you to Canada Summer Jobs for funding toward a Child Care Assistant position in our on-site daycare.
Thank you to a program graduate for the donation of a picnic table.
Thank you to the Pembina Active Living Association for the donation of a garden shed and barbeque.
Thank you to our friends, families, neighbours and donors.
Your support means so much to us.