Just about any news, anywhere in the world right now, is news about the Covid pandemic and how people are coping. This has certainly been a challenge for the therapeutic community at BHF. We are working hard every day, keeping up to date with credible information, reviewing and revising the way we do things to keep everyone as safe as possible. As an essential service provider, BHF has continued to provide residential programming. We recognize that addiction does not just go away when other problems arise. We know many of our program members would have not have a safe place to go if we were to close. And we have confidence that most members of our community will continue to help themselves by helping one another; we will stay well and do well together.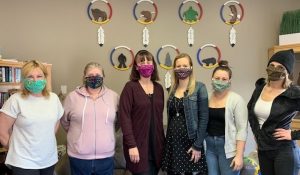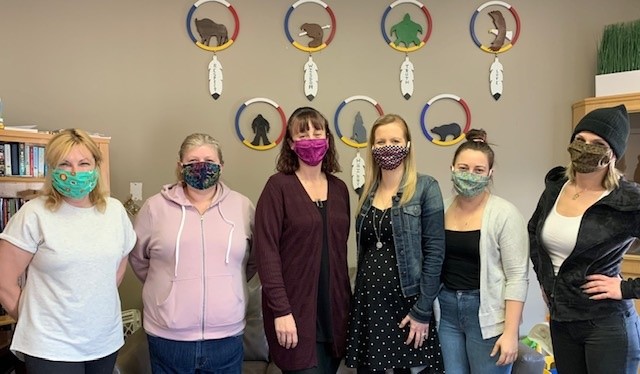 Breezy Point staff model cloth masks
That doesn't mean the pandemic has had no impact. We have implemented many changes, ranging from the number of people accommodated in residence to the way meals are served. Some changes were pretty easy; some are quite challenging. Some of our residents have chosen to leave treatment and some of our staff have been unable to work due to childcare issues, personal health issues, or caring for vulnerable family members. A few have decided that they feel safest staying home. But for the most part BHF staff are at work every day, following health guidelines, helping out wherever needed, doing their best to provide support and appropriate programming.  A huge acknowledgement is due to each and every one.
A few special shout outs are due. Our Executive Director, Jean Doucha, is leading the way through these worrisome times with her usual resolve, dedication and attention to detail. Facility Manager Angela Antoine and Director of Maintenance Dean Storie are capably managing all the additional pandemic challenges of keeping our buildings clean and in good repair. Nichola Nelson deserves applause for all the extra work and care to make sure food preparation and food service is safe and sanitary. We are thankful for the diligence and expertise of our two staff nurses, Pat Corner and Iulia Macavei. Christina Kazmierczak, our Daycare Director, has been spending innumerable hours finding ways to meet the needs of our children and families. Executive Secretary Kuljeet Kaur has calmly and efficiently addressed all the technological challenges that arose as we set up ways to do as much as possible by phone or internet. Breezy Point Director Kathryn Kubin took the lead in setting up a crew to sew dozens of beautiful non-medical masks for our staff and residents to wear when they must go out in the wider community.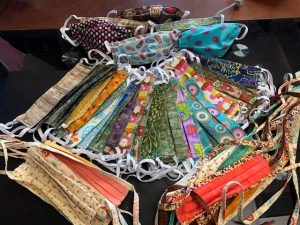 Many of our program members have also stepped forward in important ways, acting as peer mentors and role models, ensuring everyone understands and follows our health protocols.
There will undoubtedly be more challenges ahead before the pandemic ends, but day by day, as carefully as we can, we are carrying on in the BHF way – doing the best we can with today to with a vision of a healthier tomorrow.
THANK YOU TO:
The Manitoba quilters who donated cloth masks as well as the fabric for our own mask making project – a gift that is practical, caring, and beautiful all at once.
Bell Let's Talk Mental Health fund for their continued support for our Indigenous cultural programing.
Sysco Winnipeg for on-going support.
SEED Winnipeg for assisting BHF members in obtaining birth certificates through the Access to ID fund.
The Assiniboine Credit Union/ Financial Access program for assisting BHF members in setting up bank accounts.
Gordon Food Services for on-going support.
Fort Garry ACCESS nurses for consistent support for our members.
Del Barber, singer/ song writer and longtime friend of the organization, for giving BHF a shout out of encouragement during the CBC Manitoba Juno Nominees from Home concert.
The teachers at the St. Norbert Adult Education Centre for staying in touch with our resident students and encouraging them to complete the school year.