On a blustery January morning, children are at the breakfast table, eating French toast and sausages while a group of adults pack lunches and gather warm clothing before going out for a day's work, shoveling snow. Other members are already busy on work crews or setting off to school or seminars. After work hours people will welcome visitors, perhaps play a game of cards or take the children out to the skating rink for a while before ending the day with a wrap up circle, smudge or meditation exercises. It's a typical winter day at BHF.
In December, we said good-bye to Terry Higham who retired as Director of Addiction Treatment Services at BHF. Though we were sorry to see him go, we expect he is already enjoying this next phase of life. Leslie Neilsen, has stepped into the Director's role. Leslie is a long time BHF employee and has held numerous positions over the years including Early Childhood Educator, Youth Treatment Support Worker, Assessment Worker and Outreach Worker in addition to responsibility for several pieces of staff training. Leslie is an enthusiastic promoter of therapeutic community concepts.
Holidays can be a challenging time for people in treatment. At Christmas time, every single bed at Addiction Treatment Services and at Breezy Point was filled. Members worked together to make the holidays safe, supportive and happy. Celebrations included lots of treats and fun activities, including an afternoon of decorating "ugly Christmas sweaters". Parents and kids did a great job on Christmas Eve, singing in front of the tree until Santa arrived with gifts for all. The next day, members and their guests sat down to a wonderful dinner prepared by our kitchen staff and resident crew. Everyone was in the house on New Year's Eve, welcoming the year with music, pizza, and positive resolutions for the months ahead.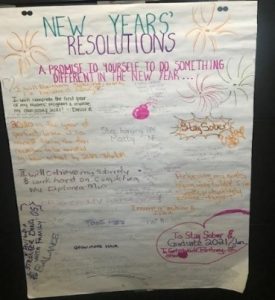 BHF members committed themselves to positive things in 2020.
Another notable holiday event was a December potluck get together for program graduates, hosted by ATS Director Leslie Nielsen and Outreach Worker Robyne Eichorn at the River Point Centre. Regular outreach groups are also held at River Point throughout the year, giving those who have exited treatment a chance to share their struggles and achievements and a way to stay connected to therapeutic community values.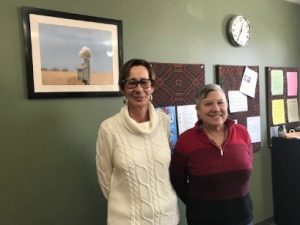 Leslie and Robyne hosted a holiday potluck get together for program graduates.
BHF is a CODI (Co-occurring Disorders Initiative) program, recognizing the importance of integrated treatment for addiction and mental health. Kelly Ferguson, Breezy Point's Clinical Therapist, is a certified Acupuncture Detoxification Specialist and offers weekly on-site auricular acupuncture sessions. Auricular acupuncture, which has been shown to reduce symptoms of withdrawal, cravings, insomnia and anxiety, is a valuable addition to treatment. Sessions are provided for members at Breezy Point program and at Addiction Treatment Services and are always well-attended. Most members report improved mood and reduced stress following this treatment.
The January Bell Let's Talk Mental Health campaign has particular significance at BHF   – it is an opportunity for us to acknowledge the crucial support our Indigenous programming receives from this fund. On Bell Let's Talk Day (January 29), Bell will donate towards mental health initiatives in Canada by contributing 5¢ for every applicable text, call, tweet, social media video view and use of Facebook frame or Snapchat filter. Traditional teachings and ceremonies are a key aspect of integrated, wholistic treatment. On the traditional grounds, Sundance preparations, including rattle making, are already underway.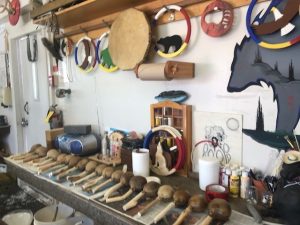 Traditional rattles will be used at the July Sundance.
Our women's drum group, Soaring Eagle Singers, continues to meet weekly, learning songs and teachings, developing a sense of belonging and accomplishment. The Soaring Eagle Singers are often asked to sing at community events, including the Heritage Day celebrations at the St. Norbert Community Club in February. They make us very proud.
THANK YOU!
Thank you to the Red River Co-op Community Relations fund for a grant to improve the play yard at our infant/ preschool daycare centre. Thank you as well to staff member Daryl Desjarlais and his volunteers who built the beautiful new fence at the daycare.
Thank you to the Women's Endowment Fund of the Jewish Foundation of Manitoba for a grant in support of art therapy for women.
Thank you to the Thomas Sill Foundation for a grant for roof repairs at our on-site St. Norbert Adult Education Centre.
Thank you to everyone who helped make the holidays a happy time at BHF. Special thanks to Winners for a donation of dollhouses and other toys, to the father of a program participant for a donation to purchase sweets and treats, to the mother of a Board member and a student at our adult ed centre for lovely hand knitted baby items, and to the members of the Winnipeg Police Service for their very generous donation of toys. Thanks as well to our own BHF staff who donated items to fill Christmas stockings for all twenty-three children in our facility.
Thank you to members of the St. Norbert community and to the family of a participant in our Indigenous cultural program for significant monetary donations.
Thank you to all our friends, neighbours, supporters and funders. Your material help and words of encouragement mean so much to us.