Midway Through The Winter, Life Is Pretty Good At BHF
Those of us lucky enough to have been here for Christmas Eve 2018 won't forget the memorable and imaginative skit performed by some of our very creative members. It delighted the children and helped adults move past any holiday blues. Some members' families were able to join us for the Christmas Day feast or to ring in the New Year with music, dancing and pizza. Skating, tobogganing, game and movie nights, gifts for everyone, and lots and lots of good food all helped make the holidays a happy time.
In addition to Christmas and New Year's, we've been celebrating some noteworthy program members over the past few months as they achieved the milestone of one full year at BHF – a year of sobriety and healthy living. One year "birthdays" are always inspiring events as the day's honoree shares a bit of their personal story – what brought them to BHF, what helped them stick it out when things got tough, what goals lie ahead. Congratulations to all our new one-year members – be very proud of yourselves!
The second semester is underway at our on-site St. Norbert Adult Education Centre. Classes run from February 4 – June 28, mornings, afternoons and evenings, Mondays through Thursdays. SNAEC's student body is a mix of BHF members and adults from surrounding communities. With a teaching staff dedicated to engaging with adult learners from a wide variety of backgrounds and varied past school experiences, it is an excellent place to upgrade specific academic skills or to complete a mature student diploma. For more information about the adult ed program, visit www. snaec.ca.
BHF's on-site licensed daycare centre and Kindergarten – Grade 6 school have always been dedicated to supporting families and fostering children's development. This winter, daycare and classroom staff have been learning and implementing Circle of Security theory and practices. Daycare Director Christina Kazmierczak and Early Childhood Educator Pat Lowe completed training modules offered by Early Learning and Child Care Manitoba. Christina then organized an extensive in-house training and continues to mentor staff as they incorporate the principle of understanding children's needs through the lens of attachment. Keywords in this approach include: delight, explore, safe, supportive, understanding and secure. Seems like a very good fit for a therapeutic community.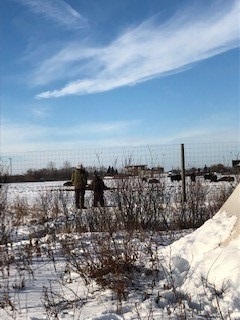 Daycare outing to Fort Whyte – learning about the local ecology and developing a strong sense of community. Winter is fun!
In a therapeutic community, teaching and learning take place everywhere – in school, on work crews, on the sacred grounds, in group sessions, during social events and in many different workshops and seminars. While resident members have been busy participating in sessions such as Understanding Emotions, Effective Parenting, and Outgrowing Addictions, staff are also participating in on-going professional development including Understanding FASD, Suicide Intervention and Prevention, Indigenous Cultural Awareness and Therapeutic Community Concepts.
On a cold winter day, smoke from a sweat lodge fire at BHF's sacred grounds makes a beautiful and welcoming trail through the air. The winter calendar is filled with events, including the mid-February Bear Sweat, full moon ceremonies and the Soaring Eagle Singers' participation at St. Norbert Community Club Heritage Days. Director of Indigenous Services, Mike Calder and his assistant, Daryl Desjarlais continue to provide teachings and counseling to BHF members and their families as well as many school groups and organizations seeking guidance and insight into Indigenous culture and history. More and more, people recognize the value of culturally relevant programming for Indigenous people, while many non-Indigenous people are also looking for ways to commit themselves to truth and reconciliation of Canada's harmful past. BHF has much to offer in this regard and believes in inclusive and accessible programs and practices. But even as requests for help increase, access to important sources of funding have narrowed. To keep these key programs strong, we are reaching out to private philanthropical organizations, all levels of government, business leaders and individuals who want to support this work. We welcome all assistance and know without a doubt that money toward wholistic, culturally centered work is money very well spent.
Some heartfelt thanks:
To all the individuals and groups, including officers of the Winnipeg Police Community Relations Unit and parishioners at Mary Mother of the Church, who donated cash and/ or toys to make Christmas a happy time for children at BHF. Thanks as well to our own BHF staff who donated items to fill Christmas stockings for the twenty-one children in our facility.
To a program graduate and his family who not only provided a very generous donation of toys for Christmas but gifted us with an entire play kitchen for our residence playroom.
To the St. Norbert BIZ for a welcome donation in acknowledgment of our members' good work keeping the community garbage and recycling bins emptied and tidy.
To a program graduate who thoughtfully purchased and donated warm winter clothing for adults currently at BHF.
To SEED Winnipeg who are offering their Money Management workshop series on-site and who continue to provide Access to ID funding for our residents.
To everyone who offers support, encouragement and concern for our work. It means so much to us.