At BHF, every day is a busy day. With continuous intake and an open-ended length of stay, there are always new members to greet, departing members to wish farewell, and on-going programming morning, afternoons and evenings. But as summer blooms around us, our members are also taking time to enjoy the season – sitting at the picnic benches with peers and family visitors, taking the kids to the local splash pad, organizing a game of soft ball or a walk through the neighbourhood.
Some of our treatment members have reached significant milestones in the past few months. Since March, we've celebrated the births of three babies – three little people whose mothers gave them the gift of a better start in life by choosing long term, abstinence-based treatment. In the same period, we've also celebrated five "one year birthdays" – members who have achieved a full year in the therapeutic community.
We're proud to report that twelve of our members are currently employed off-site in a variety of jobs. They go out to work each morning and return to participate in programming in the evenings. We are delighted that one of our program graduates has accepted a position as a Keyworker-in Training at Breezy Point while another graduate is working in our daycare as a Child Care Assistant. Three families have recently moved to transition housing, taking on more independence while still staying connected to the program. And as in past years, BHF members are volunteering weekly at the St. Norbert Farmer's Market, always an active and energizing place.
June 20 was graduation night for students at the St. Norbert Adult Education
Centre
,

housed in a freestanding building on BHF's property and operated in partnership with the Manitoba Institute of Trades and Technology. The student body is a mix of BHF members and adults from surrounding communities. The 2019 group of graduates was twenty strong – men and women who successfully took on the challenge of returning to school and earning their diplomas.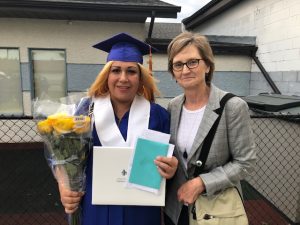 BHF's Executive Director, Jean Doucha, had the pleasure of presenting graduate Candice Munroe with the 2019 Weir Scholarship. This Scholarship honours Lorne and Geri Weir, whose decades of dedication and hard work for BHF will not be forgotten; contributions to the scholarship fund are always welcomed.
We are very proud of all the 2019 grads and wish them well in the future.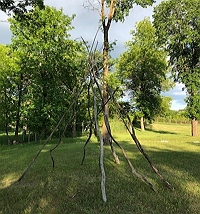 June 28 is the end of the school year for our Kindergarten – Grade Six students but the children will continue with the gardening project they've been working on for the past two months. The same space that serves as a classroom becomes a licensed school age childcare centre when school is out. For the children, a summertime of outdoor fun, fieldtrips, creative projects and just chilling with friends and siblings lies ahead.
In many ways, the most significant summer event at BHF is the Northwinds Lodge Sundance. Mike Calder, BHF's Director of Indigenous Services, is an Elder and acknowledged Sundance Chief. He and his crew of helpers put in endless hours each summer, preparing for the Sundance, taking care of the dancers and their supporters throughout the days of ceremony (July 17 – 21), and restoring the grounds to their quiet natural beauty afterward.
As we said in our last newsletter, there is growing recognition of the value of Indigenous cultural programming for Indigenous and non- Indigenous people alike. Many Canadians are looking for ways to commit themselves to truth and reconciliation of Canada's harmful past. BHF is an important option for people seeking inclusive and accessible teachings and practices.
We also shared with our readers that we were reaching out to private philanthropical organizations, all levels of government, business leaders and individuals, seeking financial support for this work. A major corporation did step forward – on April 10, Bell Canada Lets Talk Mental Health awarded BHF a grant of $240,000 over three years! BHF was then tasked with finding matching funds. On June 10, Manitoba Health Seniors and Active Living informed us they will also provide significant funding, recognizing the importance of Indigenous programming within addictions and mental health treatment.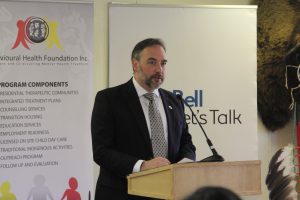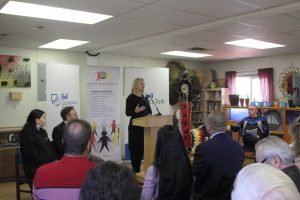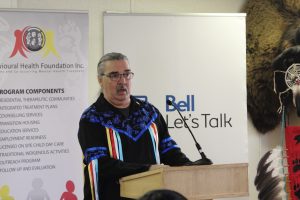 We could not be more proud of our Indigenous Services and we could not be more grateful for this help and recognition. We know it is money well spent and we are committed to continue to offer wholistic, culturally centered treatment.
Our Heartfelt Thanks To:
Bell Let's Talk Mental Health and Manitoba Health, Seniors and Active Living for funding to sustain our Indigenous Services.
Shoppers Drug Mart We Love You fund for their grant toward Indigenous women's programming.
A private donor for a generous financial contribution and his message of respect and appreciation for BHF's Indigenous Services.
Gray Academy Youth in Philanthropy for a grant toward our infant/ preschool daycare.
Manitoba Employment and Training for a grant to continue our Employment Development Project.
Canada Summer Jobs for a grant toward the salary of Child Care Assistant over the summer months.
Winnipeg Harvest for helping us keep everyone well fed and able to enjoy great meals together.
Sysco Winnipeg for their generous support.
Surplus Direct for a donation of household items.
Value Village for a donation of clothing.
Gordon Food Services for their generous support.
Everyone who supports our work and our members. It means so much to us.